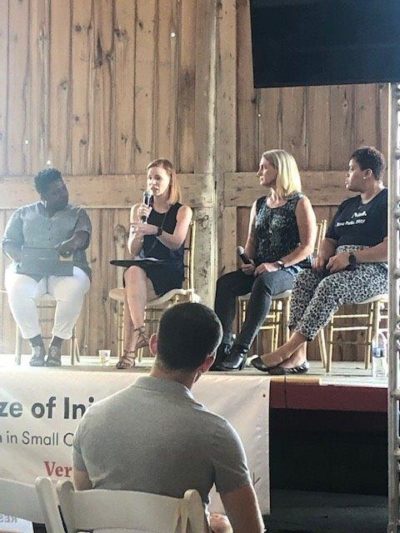 Our Family Services Advocate, Lindsey Ober, participated in the event's featured panel; Women in the Justice System. 
The Maze of Injustice showcased in Ronks, PA was held by the Vera Institute of Justice. The maze was created on a 3-acre cornfield to symbolize the challenges that individuals face while navigating our criminal justice system. Displayed within the maze was an art installation created by a previously incarcerated individual. The installation told the stories of men and women affected by the justice system at each dead end.   
Alongside Lindsey sat, Piper Kerman, author of Orange Is The New Black. Lindsey shared her experience working directly with children of the incarcerated and how trauma is a large contributing factor to the generational cycle of incarceration. She illuminated the ripple effect caused by parental incarceration and it's effects on children in many areas. Areas such as social and emotional wellbeing.
Lindsey discussed the large percentage of the individuals in Lancaster County Prison are there for addiction-related issues. She explained, we need to work towards having a system that heals individuals, we need to focus on creating a system that provides accessible treatment for those struggling with a substance use disorder. Lindsey suggested, with the proper support in place, we would see our mass incarceration and crime rates on a steady decline in our community.
Many audience members were pleased to hear that there are advocates at the local and national levels. Advocates are working to make a more cohesive system that can treat individuals at the source of their struggles, such as addiction. The event also brought light to the 'silent sentence' that more than 4500 children in Lancaster County experience every year due to having an incarcerated parent. The event closed with a concert by country singer, Terry Clark.
More Newsroom Posts