Mission
Compass Mark's mission is to prevent addiction through education, skill-building and
community mobilization.
Vision
To guide and empower all people toward healthy, fulfilling lives free from addiction.
Values
To complement and support our mission and vision, we emphasize a set of core values that govern how we work together and alongside our community.
Purposeful
We value asking thoughtful questions, embracing the courage to change, and pursuing innovation grounded in research and best practice.
Compassionate
We value sharing with each other's vulnerability, always seeking to guide through making individual connections.
Persistent
We value staying the course with resolute determination, taking time to celebrate achievements along the way, and pursuing collaboration for
long-term impact.
Inclusive
We value creating welcoming, judgement-free environments that engage our individual differences as strengths.
Resilient
We value the inherent potential that exists in every person and community, recognizing that the past does not determine
our future.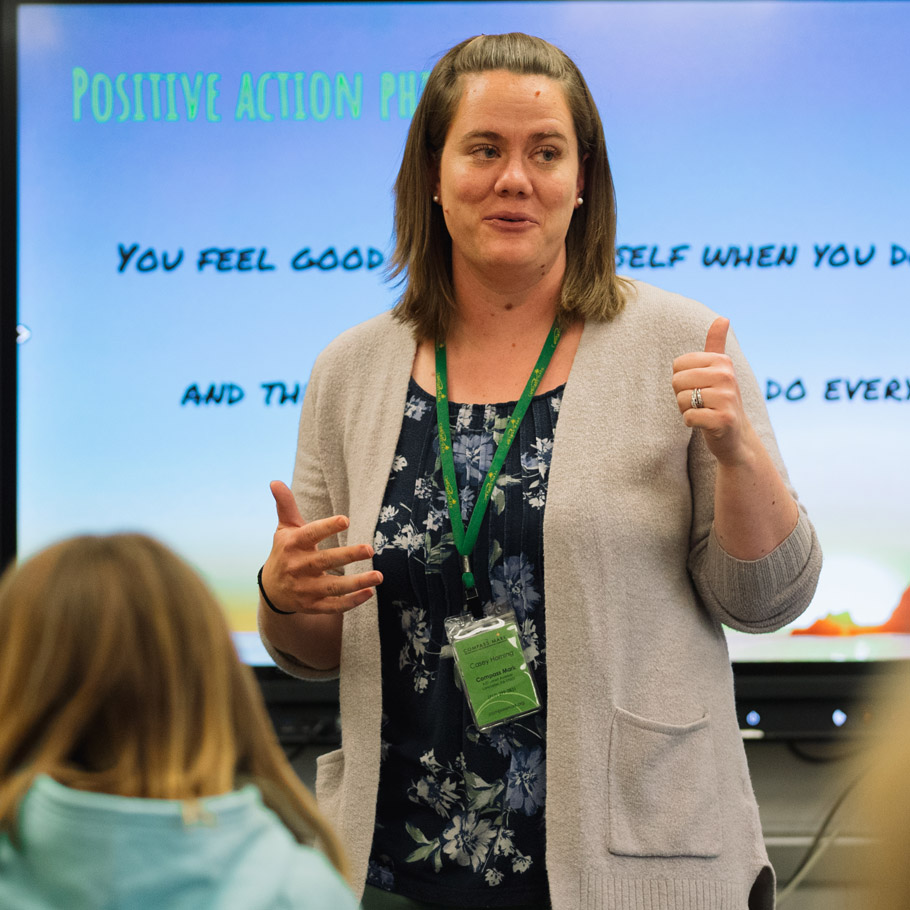 Our Science
Prevention of any illness—including addiction disorders—is based on public health principles of lowering risk factors and increasing protective factors, or strengths.
At Compass Mark, our highly talented and committed staff use this science in the community by teaching, training, and providing prevention resources.
The impact of our work is a change in people's knowledge,
beliefs, and actions which supports their long-term wellbeing.
Prevention is a cost-effective, long-term investment that transforms lives and strengthens the fabric of our schools and communities.
Our People
Staff
Board
Kevin L. Bradley, President

Senior Vice President, Janney Montgomery Scott LLC

Dana Pyne, Executive Vice President/Secretary

Senior Probation Officer, County of Lancaster

Oliver Arthur, CPA, Treasurer

Senior Governmental Accountant, County of Berks

Christopher E. Metzler, PhD, Vice President

Dean of Student Services, Thaddeus Stevens College of Technology

Kate Brossman, Vice President

Community Volunteer

Douglas Brossman

President and CEO, Burnham Holdings Inc.

Sharon Czabafy, DSW

Tobaco Treatment Specialist, Wellspan Ephrata Community Hospital

Karen Dielmann, DEd

Associate Professor, Pennsylvania College of Health Sciences

David A. Frank, CPA

VP of Taxation, Amtek, Inc

Josette Grady, MSW, LCSW

Clinical Supervisor, Onward Behavioral Health – Paoli

Tracy Gray Hayes, MBA

Assistant Director of Academic Advising, Harrisburg Area Community College

Lewis E. Jury, PhD

Superintendent Emeritus, Manheim Central School District

Leo Lutz

Mayor, Borough of Columbia

Connie Sheaffer

Retired Nurse Manager, Wellspan Health

Justin Snook

School Counselor, Hempfield School District

Jeffrey Wimer, PhD

Associate Professor of Wellness and Sport Sciences, Millersville University

John Zeswitz

Consultant, North Group Consultants
Our History
Compass Mark was created with a clear purpose: To recognize, prevent, and lessen the impact of addiction disorders.
Throughout our history, we've assumed a leadership role in all aspects of addiction education, prevention, intervention, and treatment.
The 32 community leaders who signed our charter built a strong
foundation for the evidence-based prevention programs
offered by Compass Mark today.
November 1966
The National Council on Alcoholism, Lancaster County (NCALC) is founded to provide education & advocacy around alcohol misuse, as local chapters of the National Council opened all across
the United States.
The 1970's
Seeing the need for local treatment, NCALC opens and operates the first inpatient treatment center in the county—Manos House, the first halfway house for men—The GateHouse, and provides the first outpatient counseling to adults with substance use disorder.
The 1980's
NCALC creates the first local prevention programs for youth, including Skills for Life for teens charged with underage drinking, the Elementary Youth Support Program for school students, and with the help of the Sertoma Club of Lancaster, Kids Kamp—an early intervention project for youth in
high-risk situations.
The 1990's
The agency embraces public health concepts as applied to prevention, offering the county's first training on matching evidence-based programs to specific risk and protective factors in the community. Kids Kamp expands into a full-year program supporting youth with high levels of stressors. And the board votes to change the name to the Council on Drug & Alcohol Abuse, recommitting to preventing the incidence, prevalence, and consequences of the harmful use of
alcohol and other drugs.
The 2000's
The Council begins basing program decisions on the PA Youth Survey results, which highlights substances and risks of concern specific to Lancaster County. In 2009, another name change to Compass Mark emphasizes that our programs help people find their way. "Pick the point on your compass where you'd like to go. We'll meet you where you're at and guide you to your
new destination."
July 2011
Compass Mark is chosen by the County of Lebanon, PA as the primary provider of prevention services. Our new satellite office offers school-based programs, community outreach, and technical assistance on the county's task forces and grassroots coalitions.
July 2015
The Family Services Advocate program is created to advocate for the unique needs and rights of children with incarcerated parents, supported by the non-profit Ambassadors for Hope and their founder, Robert R. Cooper. Evaluations of the program's
impact are provided by
Millersville University.
July 2020
Compass Mark signs a contract with the County of Chester, PA and opens an office in Exton. Our close collaboration with the office of Drug & Alcohol Services means we get school programs up and running quickly, and provide effective training for educators, as well as information and referral for the general public.
Now offering effective prevention across three counties, Compass Mark responds thoughtfully to trends that impact health and wellbeing with expertise
gained over six decades of public health work.