Compass Mark's mission is to prevent addiction through education, skill-building, and community mobilization.
On Monday, October 7th, Compass Mark hosted two of the original Freedom Writers, Tony Becerra, and Cynthia Ray, to share their stories with our community. The night was filled with messages of inspiration, empowerment, and resiliency. We celebrated both the 20th anniversary of The Freedom Writers as well as the successes of Compass Mark and all who've endeavored to grow and heal.
Our Freedom Writers speakers and documentary exceeded our expectations. Attendees were inspired and moved by the way good prevention can change lives!
Cynthia shared stories about her personal recovery process and cited her support network of educators, family, and friends as a vital aspect of her recovery. She spoke about the importance of resilience and self-confidence stating, "always keep trying and never give on yourself." Cynthia's ability to be vulnerable and honest with the audience led to an interactive conversation with many students in attendance.
Tony's journey also underscored the need for support networks who motivate and support healthy decisions. He recounted the difficulty of understanding substance abuse disorders and mental health illnesses. Diagnosed with depression, Tony imparted his coping strategies and the importance of reaching out for help. He explained there is no shame in asking for help furthering it is one of the strongest skills one can embrace.
We would like to thank our staff, board members, and all sponsors for their assistance in making this event possible.
Thank you again to main sponsors Janney Montgomery Scott LLC, Lancaster County Community Foundation, and RBC Wealth Management!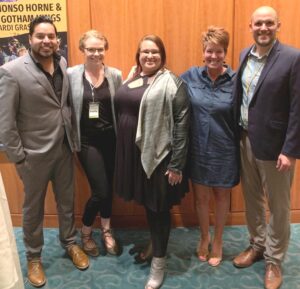 Pictured are Freedom Writer Tony Becerra; CM Interim Director of Development Katie Walsh; Freedom Writer Cynthia Ray; a friend of CM and inspiration for this event, Anne Schober; and CM Executive Director Eric Kennel.