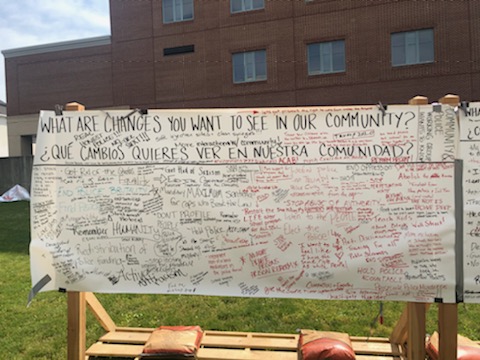 As an organization dedicated to the prevention of addiction, Compass Mark is acutely aware of the impacts of trauma, violence, and inequity in our community. We grieve the disproportionate loss of life and freedoms experienced by people of color, and recognize that our vision of a healthy community for all cannot be realized when systemic injustice and racism continue to persist.
To the members of our black community – we see you, we hear you, and we stand with you. Unequivocally, black lives matter. If we've learned anything together in these recent days, it is simply that we must do better. As individuals and organizations, we need to listen to and lift up diverse voices, educate on cultural competence and inclusion, involve people of color in community decision-making, and advocate for structural changes that advance justice and healing.
Compass Mark is deeply committed to this work and takes responsibility for doing our part to meaningfully address diversity, equity and inclusion concerns in our community. Over the coming weeks, we will be moving forward on several initiatives to strengthen our cultural competency and evaluate our programs/services in these important areas. The framework for action will be aligned with Compass Mark's core organizational values. Specifically, we strive to be:
Inclusive through creating welcoming, judgement-free environments that engage our individual differences as strengths.

Resilient by valuing the inherent potential that exists in every person and community, recognizing that the past does not determine our future.

Purposeful by asking thoughtful questions, embracing the courage to change, and pursuing innovation grounded in research and best practice.
Effective prevention creates safe, healthy, and just communities in which everyone can thrive. The conversations taking place in Lancaster County, Lebanon County, the Commonwealth of Pennsylvania and around the country are absolutely essential to this vision, and we invite our partners to join us in support of continued learning, dialogue, and most importantly, change.
Local resources that Compass Mark recommends as we listen and learn together are:
More Newsroom Posts