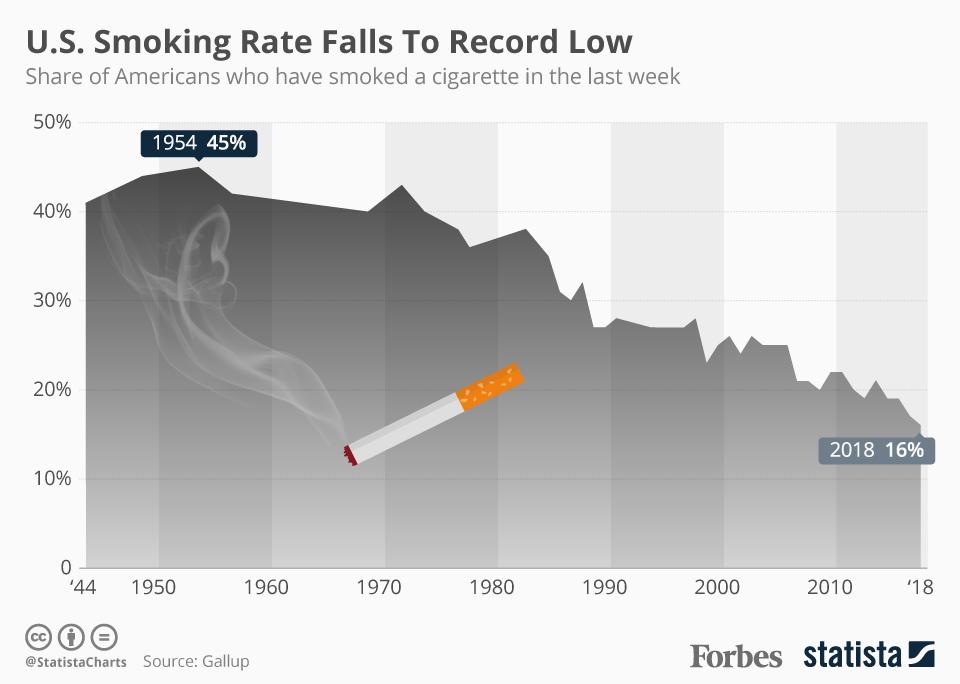 One of the most successful public health campaigns in U.S. history has been around cigarette smoking. From the  publication of the first Surgeon General's report on the harmful effects of smoking in 1964, prevention specialists have brought the percentage of Americans who have smoked a cigarette in the past week down to 14% in 2019 from its high of 45%.
Youth Smoking
Youth smoking rates have fallen even further than the general public. Years ago, similar number of youth and adult American smoked, but the 2019 PA Youth Survey shows local youth smoking rates that are below the overall rate of 14%. This is largely because children and teens have experienced intensive prevention messaging–both in school and in the community.
Lancaster County- 1.8%
Lebanon County- 2.2%
Chester County- 1.8%
The Rise of Vaping
Vaping devices were originally created, and introduced to the U.S. in 2006, to encourage people who smoked cigarettes to either quit smoking or reduce the harm caused by smoking. Vaping nicotine is now a separate form of substance use, as many vapers are not former smokers. Data from 2018 shows that around 3% of U.S. adults vape nicotine regularly. As devices changed over time from cigarette replicas to the small, sleek objects they are today, their appeal changed as well. Brands such as Puff Bar offer disposable nicotine vapes in hundreds of fruity flavors that are very popular with young people.
Large surveys of youth substance use, both national and state-focused, have been tracking youth vaping for less than ten years. Locally, we have PA Youth Survey vaping data starting in 2015–after the sharpest rises in use by teens. We can see from the last three surveys that 1 in 10 or more students vape regularly, although they may not always know if they are vaping nicotine, just flavoring, marijuana, or other substances.

Reasons for Youth Vaping
Nationally, the Monitoring the Future study started asking young people who vape why they started, and the top three answers are:
To see what it's like- 61%
Because it tastes good- 42%
To have fun with friends- 38%
This is concerning to prevention specialists for many reasons: nicotine and marijuana use in adolescence creates brain changes which prime young people for addiction; there is correlation between vaping just flavoring and moving on to vaping nicotine or marijuana, and vaping any substance has consequences for lung health; especially concerning during the COVID-19 pandemic.
The Hope in Prevention
Good vaping prevention is good public health. Bringing down vaping rates means building protective factors and lowering young people's risk factors for starting to vape or for graduating to vaping nicotine. Just as parents, caregivers, educators, and public health workers lowered rates of cigarette smoking, we can succeed with vaping. Research shows that talking to kids early and often about your expectations for them when it comes to vaping has a positive effect. In addition, Compass Mark offers an evidence-based prevention program called Catch My Breath, which dispels vaping myths, increases media literacy, and teaches good decision-making and relationship skills for 5th through 12th graders.
Please reach out if you would like to know more about how to hold a conversation with a child, or to inquire about Catch My Breath. Our prevention specialists know that prevention works, and can be your expert guides!
More Newsroom Posts