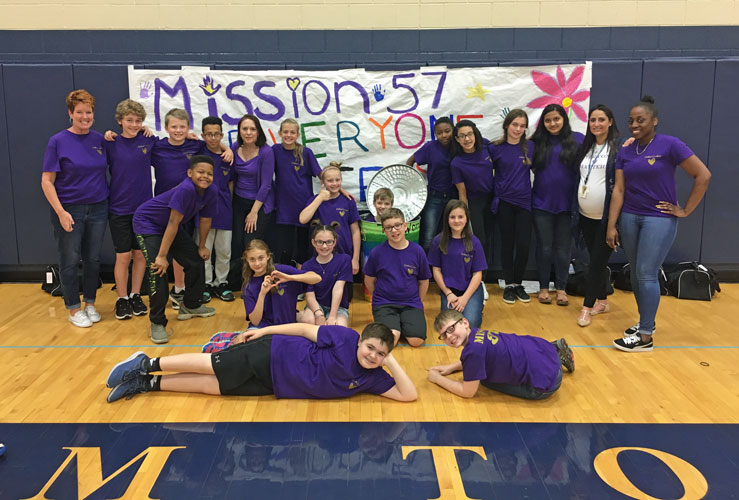 A total of 53 5th and 6th graders from Landis Run Intermediate School spent 8 weeks completing the first year of Compass Mark's Leadership Institute after-school program.
There were three separate cohorts of 15-20 students spread out through the 2017-2018 school year working together to first learn about leadership qualities, and then to create and organize a service project for their school community.
The first cohort identified bullying as a problem in the school. The students built "buddy benches," painted inspirational quotes on the walls throughout the school and hung banners with every student's traced hand pasted to it with the words,
"Our hands are here to help."
The second cohort of students wanted to spread more kindness throughout their school. They started by doing secret acts of kindness for their peers, teachers and faculty. They organized kindness day at the end of their program to hand out bracelets that said, "be cool, not cruel" to every student. The day was filled with surprises for their peers and teachers such as a breakfast provided for faculty members and a special lunch menu. They also decorated the classrooms for the students with special needs and provided a class pet.
The third cohort learned that 57 students in their school district were homeless and decided to focus their project around breaking the stigma of what it means to be a youth experiencing homelessness. Mission 57 was the culminating event where students walked around the gymnasium to see 57 different pairs of shoes with balloons attached to them with notes that read,
"If you walked a mile in my shoes, you would know that…"
Students were also given a paper upon entering the gym with a true story of a youth who was homeless and explaining that it doesn't define who they are as a person.
"If we would have tried to do that youth homelessness project the first round, I think the rest of the student body would not have taken it as seriously,"
Matt Weaver, Compass Mark's prevention program coordinator, said. "But by engaging with the other two groups at the beginning of the school year, they were really able to reach their peers and show that, just because we are 5th and 6th graders doesn't mean we can't show empathy and make an impact."
Youth development programs such as the Leadership Institute are an important part of Compass Mark's efforts to help youth develop critical protective factors and skills that will lead them on healthy, successful path into the future.