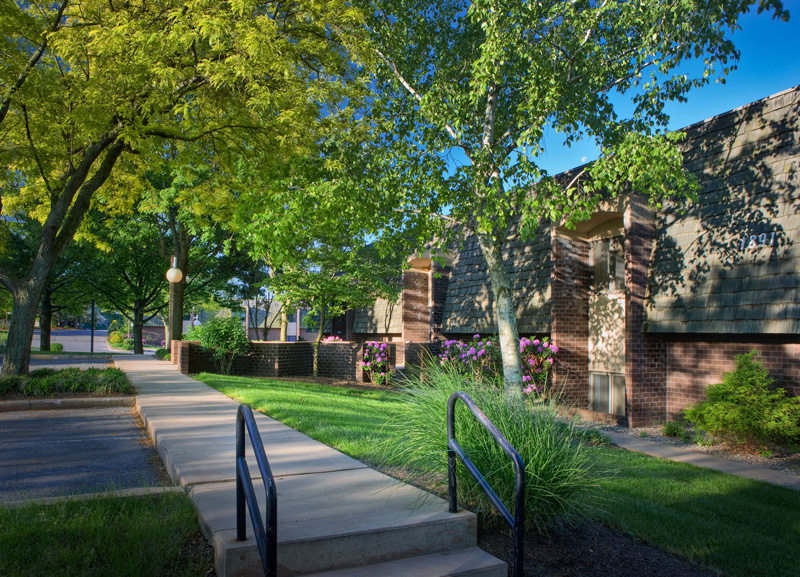 Front entrance for Compass Mark's new home on Santa Barbara Drive
For the first time in over fifty years, the Lancaster office of Compass Mark is calling a new place 'home.' In late July, the non-profit addiction prevention provider will be moving from their current location at 630 Janet Avenue in Lancaster to 1891 Santa Barbara Drive, Suite 104, Lancaster.
The new location is conveniently located just north of Lancaster City and Route 30 in Manheim Township near the corner of E. Roseville Road and Lititz Pike.  Renovation of the new office, which is owned by Murry Communities, is wrapping up in early July and a move date of July 29th is planned.
New Office Features
Among the features of the new office space is a training room with audio/visual presentation capabilities that can accommodate up to 30 participants. "The new conference space will greatly increase our capacity to offer training for educators and providers, host community events, and offer additional prevention programs and small groups like our weekly Student Skills for Life classes," Executive Director Eric Kennel says. The new facility also offers ample parking, an accessible entrance, and a reception area for visitors, clients, and community members.
So what led to the move?  "We outgrew our current space and in the process of growing, we recognized an opportunity to create a physical office environment that would more effectively meet our current needs and objectives as an organization," Kennel said. "Our prevention programs are increasingly offered outside of the office – in schools and community settings – where they are more easily accessible to the public. As a result we need office space where staff can come together to plan and collaborate, and then take programs back out into the community."
Agency Training Room
In recent years, requests for Compass Mark's training and technical assistance services have continued to grow.  This is especially true for the Student Assistance Program, a program that is designed to train and equip teachers, administrators and guidance personnel in identifying substance use and mental health issues which pose a barrier to a student's success, and help them implement a plan to assist the student overcome those barriers. The new training room will be a space where these services can be offered in a modern and comfortable environment. "In addition to being used for trainings, I really would like to see the space utilized by our community coalition partners for program development, networking, and other important activities," Kennel adds.
The new office doubles the space of Compass Mark's existing Janet Avenue location to 3,800 total square feet, providing a more open configuration for the twelve full-time employees that work from the Lancaster office. In addition to expanding Compass Mark's capacity to host training and community events, the space will also accommodate additional staff as new programs are developed.
Moving Forward
After providing services to the community from Janet Avenue for more than fifty years, Compass Mark's staff and community partners will always have a sense of connection to their former location in the Community Services Building.  Guided by an energizing mission and vision for the future, however, Compass Mark is eager to pursue the many new opportunities that will emerge from their new location.
Beginning July 30th, Compass Mark can be found at:
1891 Santa Barbara Drive
Suite 104
Lancaster, PA 17601
The organization is planning a community open house to celebrate their new location on September 17th from 2pm to 6pm.  Additional information will be posted on Compass Mark's Facebook page and website at www.compassmark.org
More Newsroom Posts