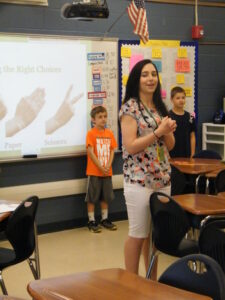 Compass Mark holds a state grant for the prevention of problem gambling, and offers the following:
We Know BETter
This exciting, interactive problem gambling prevention curriculum is for youth in grades 4 through 9 as six lessons.
WKB has a strong focus on addiction education and life skill-building, and is appropriate for both school classrooms and after-school and summer groups.
Trainings & Presentations
We have developed the following for adult audiences:
The Stakes Are Too High: Addiction 101– Addiction basics, including the risk factors for any addiction, warning signs and answers to the question, "Why worry about gambling?" A great presentation for parent groups. (Slides presented in English and Spanish.)
Video Gaming: Gambling with Addiction?The medical community is studying gaming to see if it warrants being classified as an addiction. This presentation address the characteristics of video games that keep the player coming back for more, how video games can be a gateway to gambling, how to identify a problem and how to set limits to keep the games fun.
For more information contact Bevan Allen at (717) 299-2831 ext. 225.