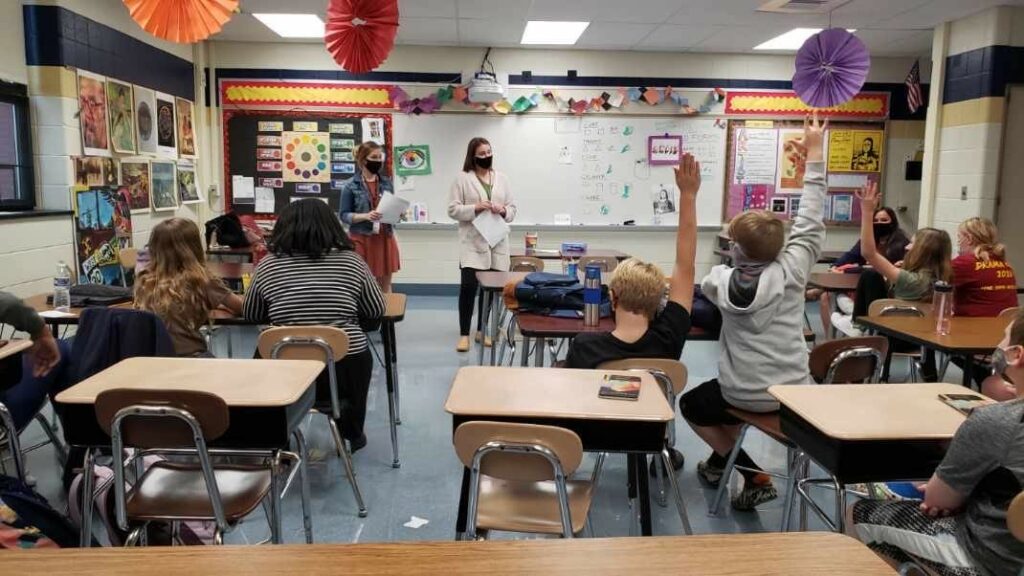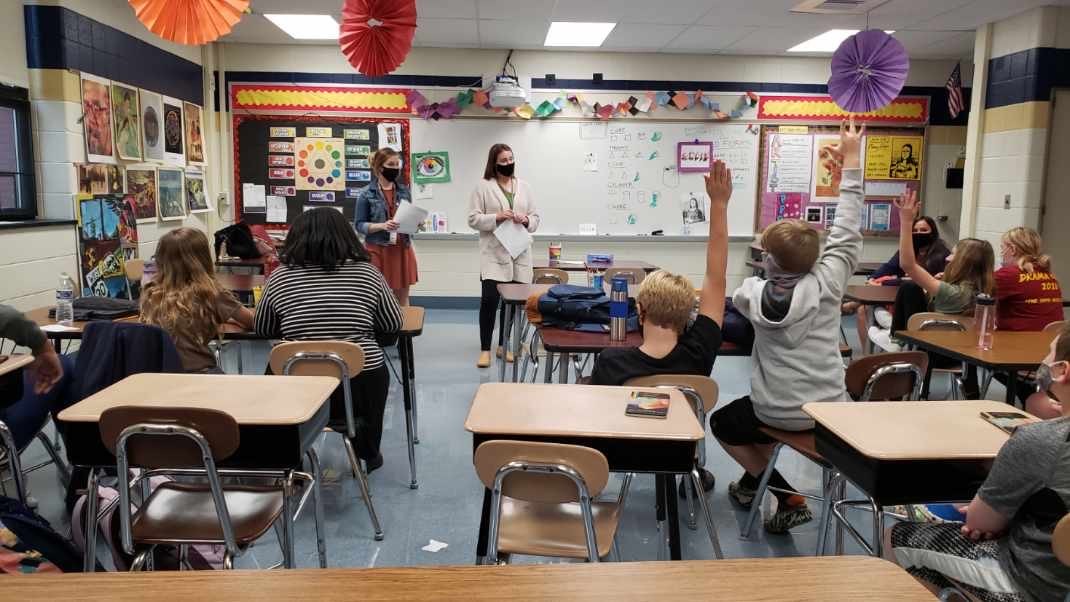 Interns Kaelyn Harris and Amber Aungst with a Leaders of Future Generations group
Welcome back to #MUMonday! Kaelyn Harris here, intern from Millersville University. For my second and final post of this series, I am going to talk about the program Leaders of Future Generations (LFG). For those of you that may not know what LFG is, it is an after-school service-learning program for students in 5th to 6th grade. These students are recommended to the program by teachers, for demonstrating leadership potential. Compass Mark facilitators teach the students leadership skills to combat risk factors to promote resiliency and empowerment to become successful leaders.
A study created and performed by Nabors et. al. implemented a service-learning project for adolescents, focusing on emotional expression, learning emotions and interpersonal problem-solving skills (2019). It was hypothesized that after participating in the service-learning opportunities, the adolescents would have broadened awareness of their personal leadership skills and motivation for service (Nabor et. al. 2019). The procedure carried out was a series of four lessons: expressing feelings (1), solving interpersonal problems (2), problem-solving steps (3), and working together and expressing feelings (4). After the lessons, each student answered questions in a journal for reflection on what was learned, personal challenges, possible improvements, etc. Results showed that the participating adolescents felt their leadership skills had been increased, as well as a sense of civic engagement. It was also noted that several students reported feeling inspired by the service-learning opportunity (Nabor et. al. 2019). The Leaders of Future Generations curriculum teaches students similar skills, with practice through a group service project, in order to improve their leadership qualities. From LFG, students may have the opportunity to move on and utilize the leadership skills learned and practiced in order to mentor other young students in turn.
We are about half way through the current LFG program I have been assisting with. Over the weeks thus far, the students have opened up and shown their true personalities. From the first day with few students volunteering to speak, to now with all the students excited to talk and share their stories, they have broken out of their shells. They have learned important life skills such as emotions, decision making, and qualities of a great leader so far. Through the lessons given, each student appears interested and involved in their learning of being a leader. It is apparent that the students have taken what they've learned with us, and applied it to their everyday lives and relationships. The area of focus this group chose to carry out their service project is the environment and making the world a cleaner place; specifically, cleaning waste from their local neighborhoods. The motivation of the students to work together and make a difference is truly inspirational. There is more to come shortly with that! What a pleasure it has been for me to watch each student open up and grow in their own ways. Their leadership qualities have been enhanced through the LFG program, and I can see they are resilient and confident in what the world has to offer them!
Reference
Nabors, L., Poteet, A., Blankemeyer, C. Z., & Kamphaus, A. (2019). Adolescents as coaches during service-learning: Teaching children social and emotional skills. Child & Youth Care Forum, 48(5), 719–736. https://doi.org/10.1007/s10566-019-09503-x
More Newsroom Posts