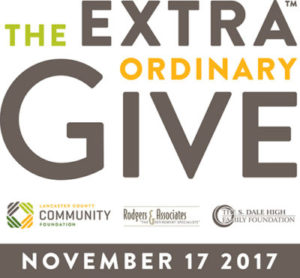 It is that time of the year again! Extraordinary Give, Lancaster County's largest day of giving, is here. Any donation made online will be stretched by a half-million-dollar stretch pool. Support Compass Mark and addiction prevention by Giving Extra!
Compass Mark specializes in providing substance abuse and gambling prevention programs for children, youth, and adults in your community. For over 50 years, we have been working hand-in-hand with the community to address the disease of addiction through skill-building and empowerment strategies.
Thanks to generous individuals like yourself, Compass Mark was able to serve over 12,000 people throughout Lancaster and Lebanon Counties last year.
Your donation matters and allows us to serve the extraordinary members of our community
$100 can…
Provide an at-risk person with one month of Student Skills for Life, a program that educates youth on the dangers of drug use and promotes healthy, informed decision-making.
$250 can…
Give a child a meaningful weak at Future Generations, our after-school youth leadership, mentoring, and academic enrichment program.
$500 can…
Help build additional staff capacity for the Family Services Advocate, an innovative prevention program that addresses the unique needs of children with a parent in prison.
Your donation changes lives. Donate today so you can help a member of your community.
More Newsroom Posts