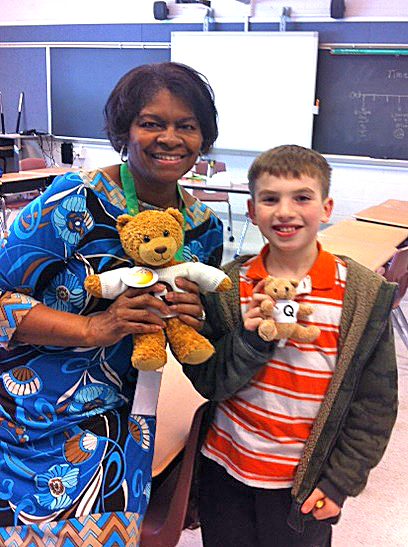 Every year, Compass Mark's Prevention Program Facilitators head into schools in Lancaster and Lebanon Counties, delivering evidence-based programs to make our community healthy and strong. Providing elementary students with skill building and resiliency training programs like Lions Quest and empowering older students with leadership training, Compass Mark's program facilitators work hard to guide students on a path toward success.
Through these programs, students gain life skills like healthy decision making, ways to say "No" to negative peer pressure, how to communicate and listen to others and accept differences.
New this year: small groups, additional funding, leadership training
This school year, facilitators introduced small groups for some of the higher risk students in Lancaster schools. The ability to relate to higher risk students in a smaller environment yielded great results, Matt Weaver, prevention coordinator at Compass Mark, says. "Moving forward, we want to get a little more diverse and use small groups in addition to offering universal full-classroom groups."
Another change this year saw was the melding of two programs, Future Generations and Leadership Institute, to create an 8-week program called Leaders of Future Generations. "There were some hurdles in getting the new program rolled out," Weaver says, "but the impact has been incredible, not just for kids who went through the program, but for their peers who they rub shoulders with every day."
This year was also set apart by additional grant funding which allowed Compass Mark to expand services in Lebanon County. This enabled facilitators to roll out a new program called Positive Action. "This program teaches students how to use Positive Thoughts to create Positive Actions which then leads to Positive Feelings about themselves. We were able to start that in six new schools this year," says Prevention Coordinator Michelle Sweitzer.
Measuring success for at-risk children
Serving as a facilitator can sometimes seem like a thankless job. Often, facilitators work within disruptive classrooms or with inconsistent attendance. But the skills that the programs teach – and the selflessness of the facilitators pouring into the lives of at-risk – is making a difference.
"Recently, one of our facilitators ran into a student who had been in their program several years ago. They randomly ran into the student at a store, and the student remembered them and exactly what had been taught in that class," Weaver says.
"It was cool to see that even when it seems like students aren't paying attention, the seeds are still being planted. We are helping them cope with various situations in life. It really does stick with them."
Another facilitator concurs. "I've been struggling to connect with the 6th graders who I work with. They are scheduled to have group with me during their lunch time but, after our first session, have realized that no one is holding them accountable to show up. The counselor and I sought them out in the cafeteria, and tried to encourage them attend…. that day, a student who had not shown up for the past five sessions decided to join in. We talked about stress during that session, while only he and one other male student were in attendance. He opened up about personal struggles and how the techniques that we were practicing could really help him. The boys stayed through their recess time that day and would have chosen to stay longer if they could. That student thanked me as he walked out the door saying, "I haven't been coming to this group because I honestly did not think it could help me at all, but I was wrong."
Teaching leadership in the midst of a disruptive environment produced another success story. "In one group a very disruptive student acted as my co-facilitator," says another facilitator. "This boosted his self-esteem, and the other group members were able to enjoy the lesson. In another group where there was only one female student; being a co-facilitator helped her to feel more accepted and equal to the boys."
"In all of my groups, I try to stress how important it is to be friendly, helpful, kind and respectful to one another and not to be too quick to judge someone," another facilitator shared. "In the Mountville group; a student assisted me with a boy who had low self-esteem issues and felt like an outsider. By following the group's values and seeing that I stopped the lesson to assist him when he became frustrated, the student was able to step in so that I could continue with the lesson."
A healthy, fulfilling future
What are the long term ramifications for students who have had the opportunity to work through trauma, develop leadership skills, and learn decision-making through these programs?
"Best case scenario – a healthy, fulfilling life free of addiction," says Weaver. "We are equipping them to be able to be ambassadors for themselves and also for their friends and family."
Programs like Project Towards No Drug Abuse teach healthy coping skills, decision making, goal setting, and help students pair these new skills with knowledge and practice.
"The students are able to learn positive ways to walk through the journey of life, "Sweitzer says. "I think that they will use the skills to become their greatest selves."
As another year comes to a close, it's clear that for Compass Mark coordinators and facilitators, it's one that will be long remembered.
"One of my favorite things about our prevention programs is seeing the growth of students and facilitators," Weaver says. "We start out with some challenging groups, and once they see the 'aha moments,' their attitude starts to shift and change as well. It's really awesome how the facilitators learn from the groups while the groups are learning from them."
More Newsroom Posts