Welcome to the Compass Mark Training Center!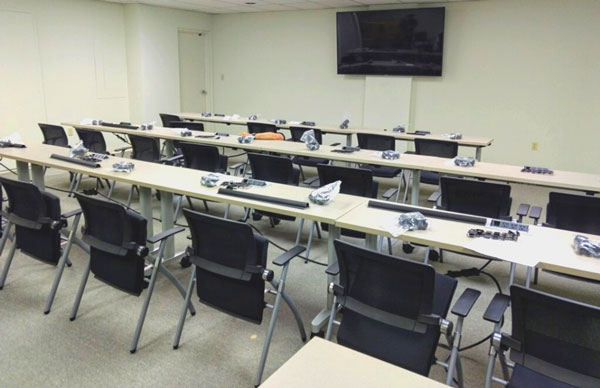 Compass Mark's 30-seat Training Center at our Lancaster Office features comfortable seating, table-top power outlets, wi-fi, and wireless projection.
Parking is available in lots on all sides of the building, and the Training Center Entrance is on the west side of the building, right on Santa Barbara Drive.
There are two accessible entrances in to our building:
Park in the side lot (west of the building). Call Compass Mark beforehand to open the marked Training Center door, which opens outward toward you, if needed. The rest of our facilities, including restrooms, are then fully accessible.
Park in the rear lot and come into the vestibule. There is a vertical platform lift to descend the 4 stair steps. There is then a door with a lever handle which you need to open toward yourself, and the main door to our office is similar. You may call Compass Mark beforehand so that we can open those doors for you. The rest of our facilities, including restrooms, are then fully accessible.
Trainings available to your school, workplace, or community organization
These trainings can be presented in a variety of ways. Contact Deb McCoy to choose the training option that best meets your needs!
Lunch & Learn: Let's get together for lunch; your place or ours! These trainings and presentations can be built to suit based upon your busy schedule and timing constraints. Most trainings below are available to you utilizing this option, unless otherwise noted.
Customized Trainings: Often, an organization has a unique need that does not simply fit into a singular box.  Our Trainer will work with you directly to assess your needs and design a specific, outcome driven training program to meet them.
Regularly Scheduled Trainings: Our Training Center has regularly scheduled professional development opportunities. Most of these opportunities are eligible for ACT 48 credit. Please visit our Regional Calendar to find dates and register for these trainings.  If there is a topic of interest to you that is remiss from this calendar, please contact us! We are able to add trainings upon demand.
For information about Student Assistance Program trainings, please visit our Regional Calendar and search for "SAP".
Current Trainings:
Substance Abuse Current Trends: Find out what substances are currently trending, declining, or on the horizon in your area and what you can do about it
Addiction CPR: A Comprehensive Prevention Response: "Addiction CPR" is a contradiction, as good prevention takes time, not minutes, and is more complex than we would like it to be. It saves lives nonetheless. This workshop will challenge your notions of how to prevent addiction, and help you build a solid, research-based method of screening programs.
Student Assistance Program Team Training (for certification)
Customized  Trainings
Compass Mark also offers a wide range of customized trainings for audiences of any age. Contact Deb McCoy today to inquire about topics of interest to your school, workplace, or community organization at (717) 299-2831 x 230.