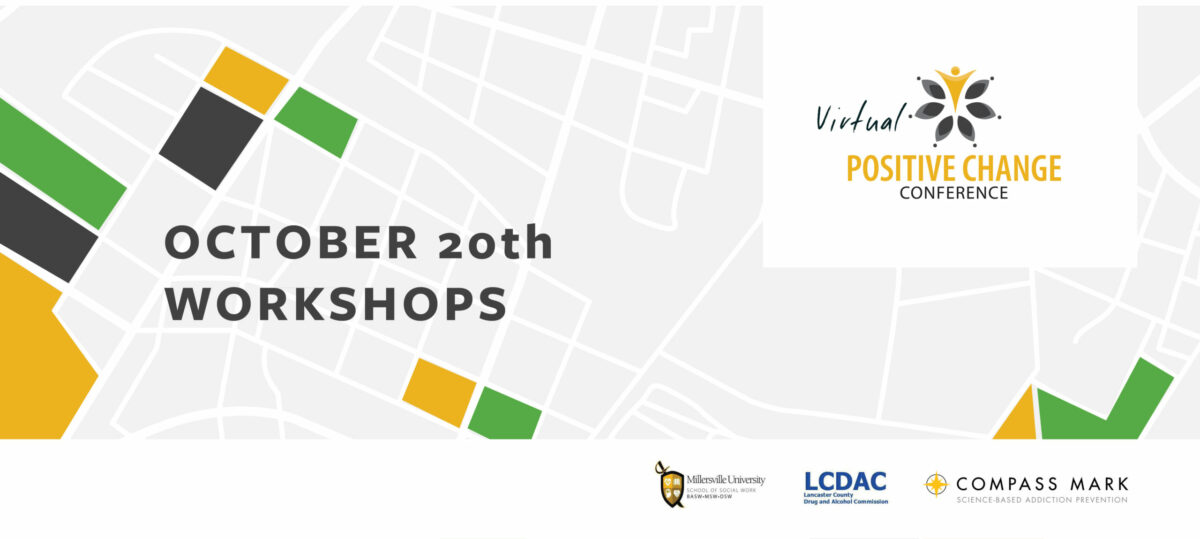 Day 1 Workshop Schedule: Positive Change Conference
October 20, 2021

8:30am – 9:45am
Loss & Grief: A Modern Lens for Practical Interventions by Tami Micsky, DSW, LSW, CT
The experience of loss over the course of the life span is inevitable and presents challenges to wellness and recovery. This keynote will explore grief reactions associated with a broad spectrum of loss experiences, including COVID-19 related losses. Participants will consider modern grief theory with applications to practice with individuals, families, and groups.

9:45:am – 10:00am
Network with our sponsors and other attendees through the Socio conference app.

10:00am – 11:00am
Be Here Now: Mindfulness & Co-Regulation in School Settings by Leah Mundy-Maher, MSW, LSW
Recent data shows students are experiencing new or worsening behavioral health concerns since COVID-19's onset. Mindfulness practices can support students' emotional regulation throughout school days and significant transitional periods. This workshop will outline connections between mindfulness and regulation, and identify practices school staff and SAP teams can employ.

10:00am – 11:00am
Families in Recovery: How Understanding the Enneagram can Build Resilience by Sandra Orndorff, MBA, Certified Enneagram & Embodiment Coach
Helping family members in recovery understand the dynamics of their energetic responses to themselves and their loved ones in recovery. The Enneagram is a powerful personality tool that allows us to really understand why we respond to ourselves and others. Stepping first into ourselves for healing is a major component of a family system healing. The healing is vitally needed to support our loved one in long-term recovery. This is spoken so often but often no practical guidance or tools are given to family members.
This presentation will help give some practical tools to help family members understand the family dynamics. Learn how "learned" behaviors energetically are housed in the body and how to release them. Learn the three major stances in the Enneagram and how they translate to boundary work and the Karpman Drama Triangle. Leave with new insights as well as practical tools for yourself and your clients.

10:00am – 11:00am
Building Organizational & Individual Wellness through Development of Compassion Resilience by Dana Milakovic, PsyD
When people feel their physical, social, and emotional wellness are supported in their working environment, they have an increased capacity to build positive learning environments that support students and colleagues. Organizations can support educator wellness by building systems that address feelings of safety in adults and the climate of the organization. To address safety of adults and the climate of an organization, we recognize that staff wellness is of vital importance in being a trauma-informed system.
In this session, participants will learn the importance of organizational and individual well-being, the components of well-being and reflect on their own well-being through a lens of building compassion resilience. Specifically, we will explore the impact on the adult working to meet the needs of all of their students with varying degrees of skills, abilities, and difficulties. Compassion fatigue and compassion satisfaction will be explored. Burnout will be differentiated from secondary or vicarious trauma. This information will be used as a basis for participants to reflect on their own self-care and consider how individual well-being and organizational well-being are interconnected.

11:00am – 11:15am
Network with our sponsors and other attendees through the Socio conference app.

11:15am – 12:15pm
Becoming Trauma Informed by Stephen Paesani, MTS, MA
This breakout workshop is designed to provide child-serving professionals with a shared base of knowledge, skills, and values needed to provide trauma-informed services to children and adolescents. The training will model some key concepts in trauma-informed practice, including providing, safety, choice, and support.

11:15am – 12:15pm
Shoring the Shepherd: A Practical Enhancement for Clinicians by Joel Jakubowski, Cert-Min, MA, CRS, CIP, CADC
This program has been crafted from 15 years of formal clinical and leadership education and the learned experiences of the clinician's role—specifically, regarding the personal effectiveness and professional best practices of that role. The training provides an analogous perspective of the clinician in the role of a "shepherd or "caregiver" providing intentional, careful guidance and direction for those in treatment and recovery. The training is designed to "shore up"; provide support to the clinician, with a blend of traditional and fresh perspectives and insights related to healthy and effective therapeutic and personal approaches from the heart and mind of a shepherd.
Joel will present concepts and perspectives of care and leadership that will strike deeply into the heart of the attendee and provide confirmation, and even some healthy challenges, to re-ignite their passion and original "call" to the field. The attendees, from clinicians to peer support and beyond, will be provided a variety of fresh insights, user-friendly concepts, and communication tools to further their engagement with their clients –as well as fellow team members and leadership. Attendees will learn to see beyond the surface of clinical/therapeutic care as this presentation will illuminate and amplify the unspoken thoughts and voices of the clinician as well as those of the client. This will enable the attendee to confidently and compassionately address self-care, teamwork, and client needs at this deeper level.

11:15am – 12:15pm
You Don't Know Pot by Matthew Weaver, CPS
Often times, when engaging in conversations with youth, adults can discount that individual's perspective by rationalizing with their fully-developed adult brain. As adults, we have forgotten that we once were easily persuaded by popular misinformation, trends, and behaviors. Present-day adults didn't even have the fire hydrant of misinformation and pressures we know as social media! To prevent youth addiction to cannabis, our reaction needs to move from the judgmental messages of "Don't do drugs!" or "Stop it- you're ruining your life!" to responding with education about harmful effects using facts, not scare tactics, and providing skills so youth feel empowered and capable to make healthy decisions to achieve their present and future goals.
Such facts should include how Big Cannabis is targeting youth, and how youth and adults alike have an all-time low perception of the harms caused by cannabis use, although for different reasons. Some adults may not perceive cannabis to be harmful because their perspective is that of their youthful days when THC concentration hovered around 7-10%, and are not unaware of the effects of readily-available, high-potency bud–at around 20% THC. Young people in turn have a low perception of harm due to a combination of listening to the misperceptions of older adults + the pointed messaging from Big Cannabis–the result of legalization for adult use across the country. Re-framing this messaging is key to helping youth think for themselves so they can take ownership over their decisions and put themselves in a position for success in whatever way that looks like for each individual.