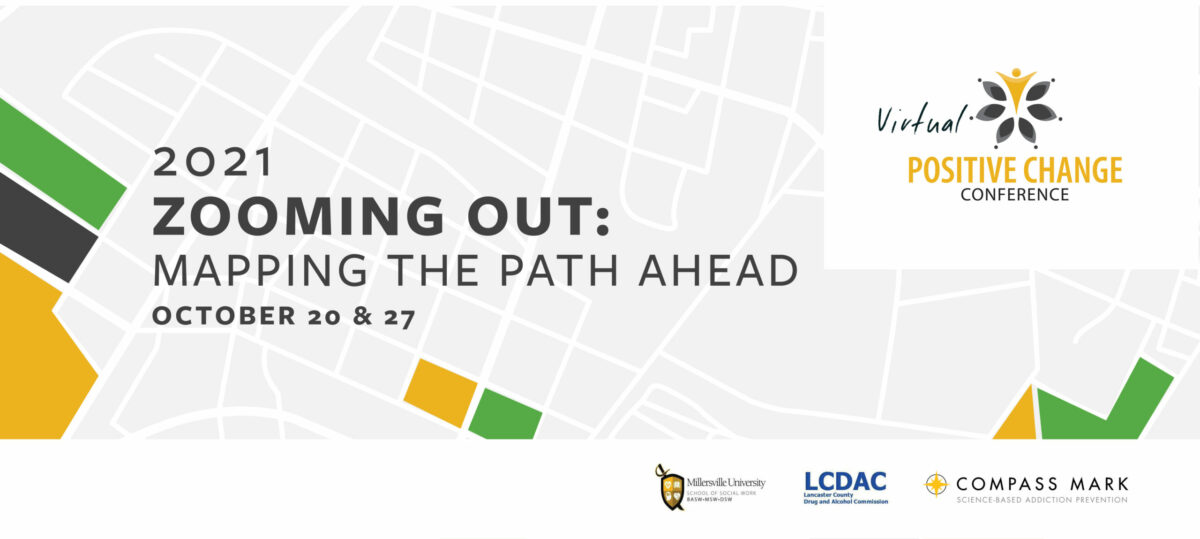 REGISTRATION NOW OPEN
October 20, 2021, from 8:30am – 12:30pm
October 27, 2021, from 12:30pm – 4:30pm
The goal of the Positive Change Conference is to offer practical, immediately applicable tools, as well as inspiration and encouragement, to those working in helping professions where addiction is present.
This year's virtual Positive Change Conference, Zooming Out: Mapping the Path Ahead, will allow us to examine how we can best deliver services that are informed and aligned with impacts driven by the pandemic at both the individual and community level.
Audience: School Student Assistance Program teams; addictions and mental health counselors and peer workers; social workers; community coalition members; college students; and other criminal justice, public health, and helping professionals.

Attendees will be able to:
Learn from community practitioners and educators on topics in each of our Tracks: SAP; Addiction Treatment; and Addiction Prevention
Network with other professionals, educators, and vendors.
Earn continuing education credits, including Act 48, PCB, and social work.
CEUs:
3 Act 48 credits per day / 6 Act 48 credits for full conference
3.25 social work credits per day / 6.5 social work credits for full conference
PCB credits are being applied for
Register by October 6, 2021 to ensure delivery of your Conference Care Package before the event. Deadline to register for the event is October 15, 2021 at 5pm.
Download the conference packet.
Questions to Conference Coordinators Deb McCoy or Bertha DeJesus

Friend of Positive Change
Sager, Swisher and Company, LLP

We'd love for you to join us in bringing this important conference to those in the helping professions. Click here for this year's sponsorship levels and benefits!